Organic Delivery Sydney
Medium Organic Fruit & Vegetable Box each
Sale price
$79.00 AUD
Regular price
$0.00 AUD
Unit price
per
Sale
Sold out
Share
Privacy Policy

Privacy Policy

Personal information we collect

---

 

Organic Delivery Sydney recognises the importance of protecting the privacy of our customers, however, there is some personal information we need to collect. Personal information generally includes any information that can be used to personally identify you, such as;

your name
address
email address
postcode
gender
telephone number

We may also share all or some of your information with third parties to perform ad measurement services. This data will be used to improve the reporting of our online conversions driven by ad interactions.  For further information on how this data is shared and used, please read Google's Ad Policies.

Other information

---

 

We may also collect information from you that is not considered personal as it does not identify you personally, such as;

shopping preferences and shopping history
marketing preferences including the type of marketing materials you wish to receive and how you would like to receive them.
information you provide via customer service in relation to products and services,
responses you may provide as part of a survey,
device identification information when you use a computer, mobile phone, tablet or other device to use our website.

Cookies

---

 

We may use cookies when you access our website. This allows us to recognise your browser and track the web pages you have visited. You can switch off cookies by adjusting the settings on your web browser. How we store your personal information

We store your personal information in our database. This system is password protected and your information is never disclosed to a third party. All reasonable steps are taken to ensure your personal information is protected from misuse, loss, unauthorised access, modification or disclosure.

How we store your credit card information

---

 

To ensure protection of your credit card details, credit card payments are processed using a secure, third party payment gateway service run by Shopify. This service is PCI-DSS compliant which is the industry standard for secure credit card payments. Any changes or updates to your payment information need to be made via this gateway. For security purposes Organic Delivery Sydney will not handle any credit card information via phone or email. All credit card details are encrypted and cannot be accessed by our Customer Service Staff.

Direct marketing

---

 

We may send you direct marketing communications and information about products and services offered by us via email or SMS.

You can manage how you prefer to receive this information in on our website. Alternatively you can opt out of all marketing communications.
Contents listed are a sample only. Actual contents will vary according to seasonal availability.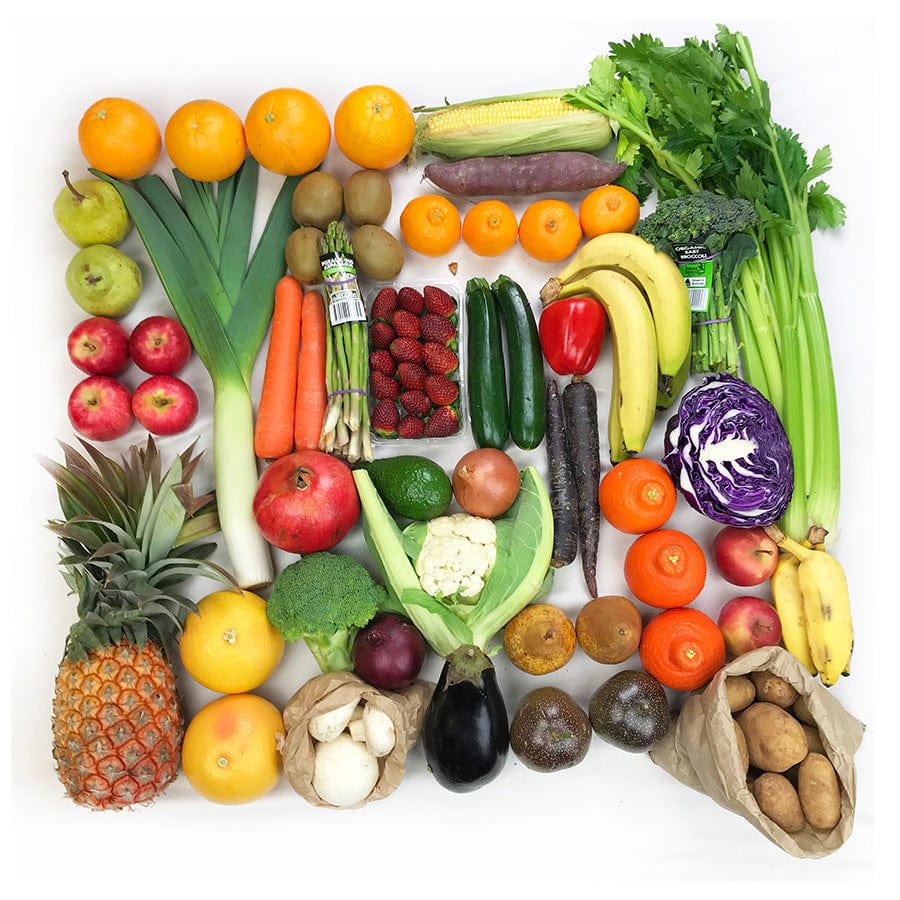 The only thing I didn't want was the grapefruit.
Decent
Decent quality and variety. Will order again.
Delicious, fresh and crunchy as could be! Loved it!
There is fresh, and there is fresh. The kind that enwraps you as you open the box with its soft smells, the kind that brings a smile on your lips everytime you stop, the fridge door opened, wondering: what shall it be? a pear? an apple? or is it time for a freshly grated salad? I love that kind of fresh. That's truly fresh to me. Enjoy!
Disappointing
Had high expectations of my first order but was disappointed to see a lot of the fruit was browned and over ripe (e.g. brown squishy lemon) and amount of veg I received seemed significantly less than pictured, a lot of the vegetables were smaller than usual and wouldn't last more than a few days for a house of 2.
Unfortunately I won't be re ordering.
Fresh and Delicious
Always impressed with the fruit and veg we get from Organic Delivery Sydney. The standard of produce is consistently high and so easy that you can get it delivered on most days which is so convenient as we have a schedule that changes all the time. Highly recommend!